Visitor Statistics
000017709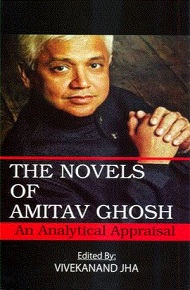 The Novels Of Amitav Ghosh
---
An Analytical Appraisal
---
Error Processing Request
---
Publisher: B.R. Publishing Corporation
---
ISBN:
9789350500620
---
Edition:
Ist Edition
---
Pages: 275
---
Binding: Hardback(HB)
---
Publication Year: 2013
---
---
About the Book
---
Amitav Ghosh (11 July 1956)was born in Calcutta and brought up in Bangladesh, Sri Lanka and India. Delhi and Oxford University have been prime institutions for his academic study. He is widely travelled man and even now he managed his time between Kolkata, Goa and Brooklyn. He has authored seven volumes of fiction and five volumes of nonfiction. Most of the novels authored by him remained best selling and he is crowned with a number of coveted awards: The Prix Medicis Étrangère(1990); The Ananda Puraskar(1990); Sahitya Akademi(1990); Best American Essays(1995); Nomination for American Society of Magazine Editors Award( 1999); The Arthur C. Clark Award(1996); The Pushcart Prize (1999); Grand Prize for Fiction; Frankfurt eBook Award(2001); Crossword Book Award(2005); Finalist, Kiriyama Prize (2006); Padma Shri Award( 2007); Grinzane Cavour Prize(2007); Asian-American Literary Award(2007); Shortlisted, Man Booker Prize(2008); Crossword Book Award(2009); Indiaplaza Golden Quill Award(2009); Dan David Prize(2010) and Blue Metropolis International Literary Grand Prix (2011).
---
Contents
---
A Tribute Poem to Amitav Ghosh - Dr. Vivekanand Jha
Raj Kumar: A Picaro? Amitav Ghosh's The Glass Palace - Dr. Indira Nityanandam
Transcendence Of Sense Of Place: Sea Of Poppies And River Of Smoke As Petrofiction - Dr. Deepak Thakur
A Thematic Study of The Calcutta Chromosome - Dr. Smita Jha
Amitav Ghosh's Sea of Poppies: Traverse of Human Exploitation - Lt. (Dr.) Satendra Kumar.
Anti-Art and Counter-Science: A Postcolonial Reading of Amitav Ghosh's The Calcutta Chromosome - Dr. Dinesh Kumar
Hostile Environment in Amitav Ghosh's The Hungry Tide - Dr. Dalvir Singh Gahlawat
The Discourse of Marginality in Amitav Ghosh's Sea of Poppies - Dr. Vijay Kumar Roy & Dr. Tribhuwan Kumar
History, Race and Amitav Ghosh's Sea of Poppies - Dr. Rajnish Mishra
Amitav Ghosh's The Glass Palace: A Postcolonial Study - Dr. T. Sasikanth Reddy
Postcolonial Ideologies: A critique of Amitav Ghosh's Sea of Poppies - Dr. Kavita Chauhan
Amitav Ghosh's "The Calcutta Chromosome"-A Critique of the Eurocentric Discourse of Science.
Dr.Tushti Sharma
The Morichjhapi Massacre: Reading Amitav Ghosh's The Hungry Tide from Human Rights perspectives - Prof. (Ms.) Koyel Chakrabarty
Suppression as depression: a critical study of sea of poppies by Amitav Ghosh - Prof. Latha Mutyaboyina
The Hungry Tide: A Postmodern Novel - Prof. Megha Jain
The Fictional World Of Amitav Ghosh - Prof. Rupali S. Bhave
Amitav Ghosh's River of Smoke– Fictionalising History - Prof. Ragu Antony & Mr. A. Ilayaraja
Blurring Boundaries in Amitav Ghosh's Shadow Lines - Prof. Reenu George
The Shadow Lines: Striated Spaces of Imagined Communities - Mr. Shreesha Udupa
Major Characterization in Amitav Ghosh's River of Smoke - Dr. Vivekanand Jha
A Novelist with the Novelist: Lila Azam Zanganeh interviews Amitav Ghosh
---
Bio of Authors/Editors
---
Dr Vivekanand Jha is A Translator, Editor And Award Winning Poet.. He Is The Author Of 5 Books Of Poetry. He Has Also Authored One Critical Book On The Poetry Of Jayanta Mahapatra And Edited Nine Critical Anthologies On Indian English Writing. His Works Have Been Published In More Than 100 Magazines Round The World. Moreover His Poems Have Been Published In More Than 25 Poetry Anthologies. He Has More Than 25 Research And Critical Articles Published In Various National And International Anthologies And Referred Journals. Recently He Has Edited A Poetry Anthology, The Dance Of The Peacock, Featuring 151 Indian English Poets And Published By Hidden Brook Press, Canada. He Is Son Of Noted Professor, Poet And Award Winning Translator Dr. Raja Nand Jha (Crowned With Sahitya Akademi Award, New Delhi). He Is The Chief Editor Of Two Literary Journals, VerbalArt & Phenomenal Literature.

Websites:
Blog: http://www.poetvjha.wordpress.com
Email Id: jha.vivekanand7@gmail.com