Visitor Statistics
000015949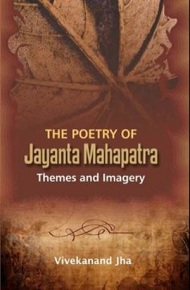 The Poetry Of Jayanta Mahapatra
---
Themes & Imagery
---
Error Processing Request
---
Publisher: Authorspress
---
ISBN:
9788172736736
---
Edition:
Ist Edition
---
Pages: 434
---
Binding: Hardback(HB)
---
Publication Year: 2013
---
---
About the Book
---
The At Hand Critical Book, The Poetry Of Jayanta Mahapatra: Themes & Imagery Showcases Quaint, Comprehensive And Surgical Appraisal Of All Facets Of Jayanta Mahapatras Poetry. The Book Is Different From Other Critical Books On Jayanta Mahapatra As It Lays Special Emphasis On His Recent Books Of Poetry And In Addition There Is A Revealing And Interesting Interview With The Author.

The Model Of Study And Elucidation Of The Book Will Be Instrumental And Of Tremendous Aid To The Critics, Faculties And The Students And Will Further Encourage And Turn Their Attention Towards The Poetry Of Jayanta Mahapatra In Particular And Indian English Poetry In General.
---
Bio of Authors/Editors
---
Dr Vivekanand Jha is A Translator, Editor And Award Winning Poet.. He Is The Author Of 5 Books Of Poetry. He Has Also Authored One Critical Book On The Poetry Of Jayanta Mahapatra And Edited Nine Critical Anthologies On Indian English Writing. His Works Have Been Published In More Than 100 Magazines Round The World. Moreover His Poems Have Been Published In More Than 25 Poetry Anthologies. He Has More Than 25 Research And Critical Articles Published In Various National And International Anthologies And Referred Journals. Recently He Has Edited A Poetry Anthology, The Dance Of The Peacock, Featuring 151 Indian English Poets And Published By Hidden Brook Press, Canada. He Is Son Of Noted Professor, Poet And Award Winning Translator Dr. Raja Nand Jha (Crowned With Sahitya Akademi Award, New Delhi). He Is The Chief Editor Of Two Literary Journals, VerbalArt & Phenomenal Literature.

Websites:
Blog: http://www.poetvjha.wordpress.com
Email Id: jha.vivekanand7@gmail.com