Visitor Statistics
000015881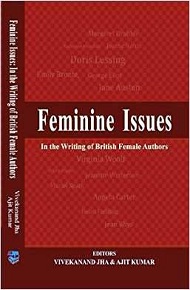 Feminine Issues
---
In the Writing of British Female Authors
---
Error Processing Request
---
Publisher: VL Media Solutions
---
ISBN:
978-9380820729
---
Edition:
Ist Edition
---
Pages: 308
---
Binding: Hardback(HB)
---
Publication Year: 2014
---
---
About the Book
---
The book, Feminine Issues: In the Writing of British Female Authors critically examines various feminine aspects raised and discussed by the British Women Authors. Female novelists like Virginia Woolf, Emily Bronte, George Eliot, Jane Austen, Joanne Harris, Katherine Mansfield, Jeanette Winterson, Angela Carter, Muriel Spark, Doris Lessing, Margaret Drabble, Helen Fielding, Hillary Mantel, Jean Rhys etc have raised the different issues and facets of womanhood. They have focused on what it means to be an emancipated woman in the male dominated and patriarchal society. This book in all probability is one of the finest books that critically examine and bring together the best of major authors in feminine world of British writings. The book has gathered almost all the iconoclasts of British female writings and it involves the writing experience of prominent British female authors on various feminine consequences that have taken place in the history of Britain and dealt with different feminine issues. This book ensembles new perspective with refreshing and insightful ventures on different female issues as motherhood, social conflicts, marriage, female conundrum, feminine dichotomy, androgynous women characters etc in the writing of British female authors. This book will be remarkably instrumental in debating and deliberating the issues of feminism and will have far reaching influence in promoting and persuading academicians, critics and young researchers to turn their attention to facilitate their dues they deserve.
---
Bio of Authors/Editors
---
Dr Vivekanand Jha is a translator, editor and award winning poet.. He is the author of 5 books of poetry. He has also authored one critical book on the poetry of Jayanta Mahapatra and edited nine critical anthologies on Indian English Writing. His works have been published in more than 100 magazines round the world. Moreover his poems have been published in more than 25 poetry anthologies. He has more than 25 research and critical articles published in various national and international anthologies and referred journals. Recently he has edited a poetry anthology, The Dance of the Peacock, featuring 151 Indian English poets and published by Hidden Brook Press, Canada. He is son of noted professor, poet and award winning translator Dr. Raja Nand Jha (Crowned with Sahitya Akademi Award, New Delhi). He is the founder and chief editor of two literary journals, VerbalArt & Phenomenal Literature.

Websites:
Blog: http://www.poetvjha.wordpress.com
Wikipedia: https://en.wikipedia.org/wiki/Vivekanand_Jha
Email id: jha.vivekanand7@gmail.com